Ladies and Gentlemen, fans of philately,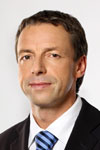 I am very honored to be able to invite you to a truly magnificent event. Prague will be the host of a world exhibition with the laconic title PRAGA 2008. Philatelists from around the world will witness a rare conjunction of anniversaries. The first international stamp exhibition was held for the first time in Prague 70 years ago, and 90 years have passed since the issuing of the first Czechoslovak stamp and since the founding of the Prague Postal Museum. When we add to that the 15th anniversary of the founding of the independent Czech Republic, which is being honoured by the holding of PRAGA 2008, we have an extraordinarily noteworthy event. I am very pleased that besides such real philatelic gems and rarities as samples from the Royal Philatelic Collection of Her Magesty Queen Elizabeth II, this collectors' exhibition will also be presenting a lovely stamp issued on the occasion of the 650th anniversary of Prague's treasure, one of the world's most beautiful landmarks, Charles Bridge.
As the mayor of Prague, almost every day I open an exhibition, congress or trade fair that contributes to the presentation of Prague. I believe that among such events, the exhibition PRAGA 2008 will be a Blue Mauritius.


Pavel Bém
Mayor of the City of Prague