Dear friends of philately,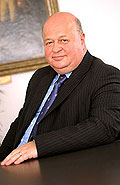 in 1962 the Praga exhibition was held in the Palace of Industry for the first time, and also for the first time the event could boast of being a world exhibition. I was eleven years old at the time. I don't know if it is still true today, but back then every boy collected things – matchboxes, soap wrappers, little badges – and stamps naturally played first fiddle. It was not until the world exhibition that I realized how crude our collections were. I got to understand (although I was not yet able to articulate it) that a collector's passion can be a noble passion. And I realized that a successful collector needs to be not only enthusiastic and zealous, but also thorough and methodical, and last but not least, a good businessperson. It would be worthwhile to do a study on how many good businesspeople got their first experience in business by bartering with collectors.
It was probably fate that today, in a slightly different way, my life again all the post – Czech Post, which supports the hobby of philately in various ways, the most fundamental of which is by releasing new issues of stamps. And I am proud that today's stamps are just as valued as the stamps of former Czechoslovakia, which were always among the most beautiful and most professionally prepared in the world. Praga 2008 will commemorate that glorious tradition. In 2008, 90 years will have passed since the issuing of the first Czechoslovak postage stamp (Hradčany Castle after the design by Alfons Mucha), as well as 90 years since the founding of the Postal Museum. The Postal Museum will be exhibiting many of its unique collections, an example of which is a block of eighty of the first newspaper stamps – blue Merkurs. In commemoration of the 15th anniversary of the independent Czech state (and the fifteenth birthday of Czech Post), there will be an exhibition of selected Czech stamps from the years 1993–2008, including the awards they have won worldwide.
When listing all of these round-numbered birthdays and anniversaries, we should not forget about one more thing. In 2008, the Praga Exhibition, presented through the traditionally friendly cooperation of Czech Post and the Union of Czech Philatelists, will be celebrating seventy beautiful years since it was first held in 1938.
On behalf of Czech Post, I wish all the best for the exhibition, an event is able to be at the same our and the whole world's. I also hope there will be plenty of satisfied visitors from among the general public, philatelists and last but not least, tomorrow's philatelists.


Karel Kratina
General Manager of Czech Post